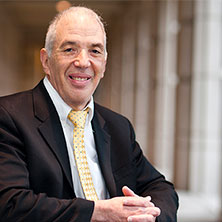 Bruce Freeman is a dynamic and popular motivational speaker, a published author, syndicated columnist, and college instructor.
When faced with a tough diagnosis of multiple sclerosis (MS) more than 10 years ago, Bruce resolved to fight it every day with everything he has – it has barely slowed him down! He has an electric scooter and drives himself in his new mobility van. His talk Turning Adversity into Opportunity is a real-life example of how nothing stands in his way and how others can succeed as well.
In addition to motivational speaking, Bruce captains ProLine PR, a successful public relations firm in the high-tech space, counting ViewSonic and SmithMicro (among others) as clients. He writes a bi-weekly business column, Small Business Professor, syndicated in hundreds of newspapers nationwide and has co-authored a book, Birthing the Elephant, about incubating an entrepreneurial business. He also teaches multiple Entrepreneurial Studies courses at the prestigious Seton Hall University.
Awards and Recognition
5 Outstanding Teaching Awards, Stillman School of Business, Seton Hall University
Small Business Journalist of the Year – US Small Business Administration (2006)
50 Most-Followed Business Professors on Twitter – MBA magazine
To discuss your group's speaking engagement needs, click here, call: 201-247-2024, or email: bruce@brucefreemanspeaks.com